Welcome To Our Spankin' New Website!
We are dedicated to developing new and real cool products for you to create art with.
Keep Checking Back - We'll Be Adding New Products To Our Online Store!

At this very moment, we are testing a new Poster and Art Kit that comes with:
16"x48" colouring poster,
12 coloured Pencils
1 Artist Pencil
1 Gel Pen (for adding your special, detailed touch)
1 Artist Eraser
1 Pencil Case
1 Artist Pencil Sharpener
Sticky Tac for displaying your poster
Adults and children alike have commented about how the Poster and Art Kit re-sparked their interest in art and their creative expression:
"The enjoyable times spent with our children sitting at the table, talking and creating art together was very heart warming"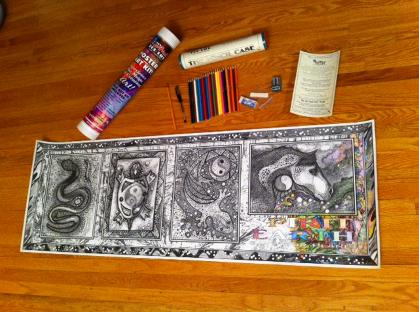 The images we design at 'My Art For Life' are reproduced from actual pieces of art created by our artists. As you will see, the shading is kept in the images to provide a guideline for you, a fellow artist, to add colour and your own personal, artistic touch.
Whether you finish this project on your own or with a group, we know it will awaken your artistic spirit.

Many studies show that creating art improves academic performance while also relieving stress.

One Thing Is For Sure...
Creating Art is Fun and Relaxing!